About Harrogate, Tennessee
About Harrogate
Harrogate became a city in 1993. The city limits cover an area of 6.58 square miles that contains approximately 4215 acres. With a population of 4389 (based on the 2010 US Census), it's the largest city in Claiborne County. Harrogate is home to Lincoln Memorial University. On the campus of LMU you will find the Lincoln Museum. The museum houses one of the largest Lincoln Collections in the World.
History of Harrogate
The area has been known as Harrogate since the 1800's but it wasn't until 1993 that Harrogate was officially declared a city. Dr. George Day was elected the city's first Mayor. When first incorporated the population was approximately 2700 but as new land was annexed the city grew. The 2010 U S Census shows the total population at 4,389. Along with the growth came street lights, traffic lights and a new City Park. The city's growth has brought new businesses to the area. With the addition of the Harrogate Industrial Park, the city hopes to bring in even more businesses.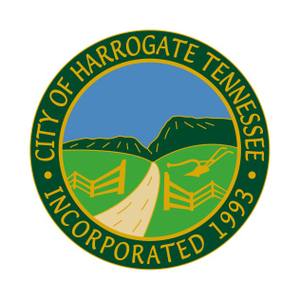 City Officials
MAYOR: Linda Fultz
VICE-MAYOR: Troy Poore
ALDERMEN:
Kenneth West, EAST WARD
Randy Burchette, EAST WARD
Troy Poore, WEST WARD
Lieven Cox, WEST WARD

CMFO/City Recorder: Debra England
Municipal Court Clerk: Sherry Goode
Building Official: David Laws
Fire Chief: Justin Cupp
Title VI Coordinator: Lieven Cox
Beer Board: Dennis Chumley, Vacancy, Roy Yonts
Planning and Zoning Committee Chair: Randy Burchett
Library Director: Barbara Ramsey
Library Assistant: Eula Simpson
Historian: Chris Fultz
Send us an E-mail (City of Harrogate)
MOST AFFORDABLE SMALL TOWN